Crafting And Basics
Lycanites Mobs drop parts ranging from level 1 to level 3, To create weapons with these parts you need to craft a "equipment forge". the equipment forge also comes in 3 levels. each level corresponds to what level of parts you can put into it. putting a level 2 part into a level 1 crafting forge will make the part also level 1.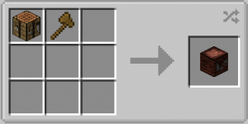 All forges require levels in "Building". tier 1 takes level 6 building, tier 2 takes level 12 building and tier 3 takes level 18. the Tier 1 forge is made with a crafting table next to an axe, the tier 2 forge is made with a tier 1 forge next to a iron block, and the tier 3 forge is made with a tier 2 forge next to a diamond block.
Crafting Gear
After the forge is made, you access it like any crafting table but the crafting grid is different, you start with a "base" slot. after putting in a base component it will access either the head or the head and pommel. The pommel is optional but the head allows you to connect on an axe, pike, blade, or jewel.
Keep in mind that in order to use certain pieces such as a pike piece, you need a special connector. For example, for the pike you need a "pike joint". if you are unsure about what goes where or how to find something. either search up what your looking for in Just Enough Items or take a watch at this video made by the mod creator: https://www.youtube.com/watch?v=w-nEKi3-05w.
To find out what kind of piece a new item you've collected is, check its description, it will say "slot type: (where it goes)." use the guide below to see where each piece goes if you cant remember. if you cant find items for your cool weapons, no need to fear. if you have not yet found any there is another option. you can craft your own! a easy guide is shown in the video above at how to craft each piece of a weapon.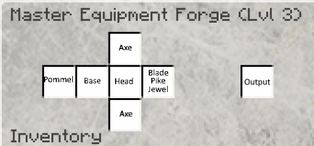 However, there are benefits to using the pieces dropped by the mobs. The pieces dropped by mobs will have multiple changes. First of all they almost all have higher attack then crafted pieces. Along with that, they give special effects. Many will inflict debuffs onto enemies, like weakness or poison. Higher levels of a piece will give stronger and longer-lasting effects, and some high levels even have secondary attacks (for example, the cinder blade has a flamethrower attack).
Additionally, certain pieces will have tool bonuses. As a simple example, a piece may say "pickaxe - 3x4x3". In this case, if you use any complete tool with that piece on it, mining anything a pickaxe would regularly mine (like stone) will mine in a 3x4x3 instead of a 1x1x1 (or otherwise one block). You can shift to cancel any mining effects (which makes you mine 1x1x1 again).
Finally, you can actually uncraft gear by putting finished tools back into the output slot. You'll be able to tinker with your gear and take out parts you don't like, or dismantle your gear entirely and save the parts for later. This will allow you to make gear just for testing it out, and you won't have to worry about possibly wasting parts. You also will not lose any parts for uncrafting your gear.
Extra Notes
All crafted equipment are unbreakable.
If you stack axe mining parts their attack speed and damage increases but not how much they mine.